Elevate your performance with the new Brogger System.
Available exclusively from Miyazawa.
Achieve a higher standard of performance.
Handcrafted with meticulous care and attention, Miyazawa flutes are world renowned for perfectly blending the best of century-old traditions with state-of-the-art technology. Miyazawa has now taken their tradition of excellence to the next level by combining the revolutionary Brogger System with the quality craftsmanship that Miyazawa is famous for.
The Brogger System – the most advanced and stable mechanism design available.
The Brogger System was design Danish flutemaker Johan Brogger, who gained international recognition with his Brogger Mekanik design. His latest innovation, the Brogger System, available only from Miyazawa, advances his original concept and includes the ground-breaking Brogger thumb key design. Featuring an innovative pinless mechanism with a curved coupling rod construction, enhanced ergonomic design and precise thumb key mechanism, the Brogger System will help elevate your performance. Other benefits include:
The capability to perfectly adjust and balance the spring tension of each individual key, resulting in a more even, effortless feel for the flutist.
Sleek one-piece rod and kicker construction. This simplified solution provides more structural integrity for a stronger, more stable and precise mechanism.
Reduced friction and less wear between moving parts.
Faster action and incredibly smooth mechanical function allowing the performer to have a virtuosic advantage and complete confidence in their flute.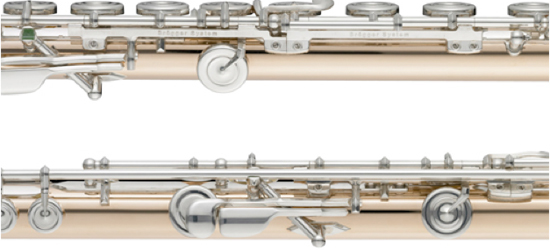 The Brogger Thumb Key Mechanism Advantage
The Brogger Thumb Key Mechanism is a pioneering design that eliminates the necessity of flat springs and provides a more secure, comfortable fit in a flutist's hand. Traditional thumb key mechanisms require flat springs which contact the body tubing of the flute. Whenever the thumb B or Bflat is depressed, the flat springs rob on the body tubing causing friction and wear. The innovative Brogger Thumb Key Mechanism enables the use of the same springs as on the mainline keys with additional desirable advantages.
Efficient and more responsive key action.
Less wear for increased stability and longevity
Thumb key post located in an out-of-the-way position for smoother, more secure playing.
Ergonomic design reduces hand fatigue.
Miyazawa takes great pride in providing exceptional flutes designed to elevate your performance.
From major developments such as the Brogger System to significant refinements such as a fully drop forged mechanism and key cups with a perfectly flat bottom, Miyazawa puts more into a flute so that you get more out of it!